Graduating soon? Well, that means you must be looking for jobs to kick-start your careers. If you are looking for a career path that is interesting and fruitful and at the same time challenging so that you can prove yourself then you have come to right place. We are going to introduce you to a new career option which doesn't only promise rapid growth but also keeps you engage in all the happening stuff around the world.
But, before that, have you ever wondered, what is the purpose of so many pages on search engines? Or why do some websites appear on the first page and the rest on 2nd, 3rd, and 4th and so on? Well, this article post will tell you why all this happens and how. And this is exactly the new career path we will be talking about. The new career path is the SEO that stands for Search Engine Optimization. It has grabbed the attention of the marketing world and it became the most prevailing Marketing technique of recent times. Moreover, there's seems no end to this particular field of digital marketing.
Not convinced yet? Up to 27% companies claim to invest in Digital Marketing and hire the field professionals.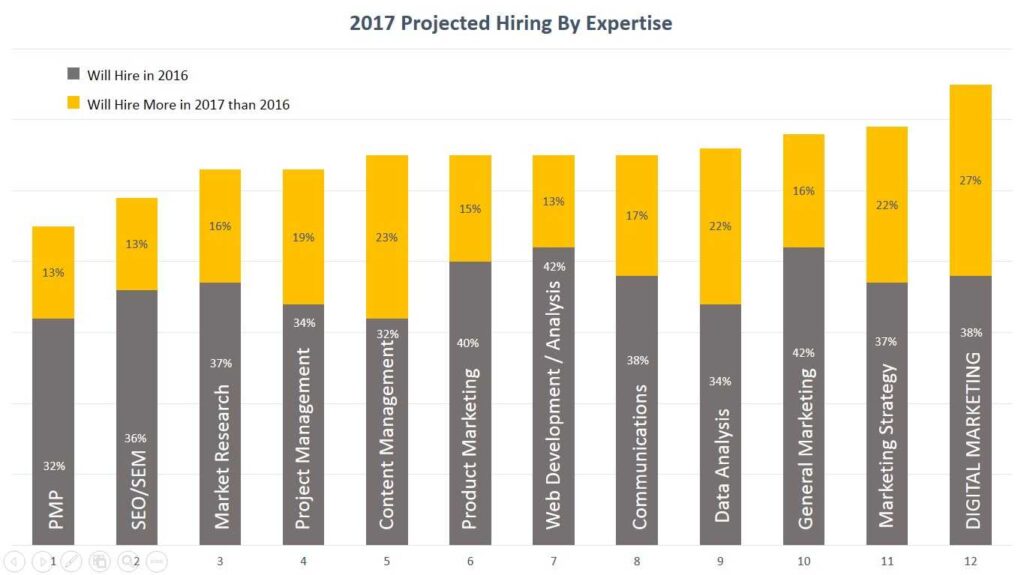 Source: Pro School Online
What is Search Engine Optimization (SEO)?
It is a set of productive techniques, used to optimize and rank your websites for various search engines such as Google, Yahoo, Bing, etc. It helps in revamping and boosting a website's reach and visits by the targeted audience.
How does Search Engine Optimization – SEO works?
SEO is the most important part of Digital Marketing and it purely revolves around website content which consists of the most suited information about the business in the form of correct and applicable keywords. There is nothing magical about it; it's just primarily a measurable process that can be used repeatedly to indicate to search engines that your web pages are worthy enough to be in the list of Google's index.
It helps in proving that your site is one of the finest sites, most reliable, most credible and most authentic site that they can offer to their customers – the searcher. And in order to achieve all this you need to get people to talk about you and along with that, you are responsible to produce excellent quality content to assure Google and other search engines that you are worthy of being ranked on the very first page of their search engine.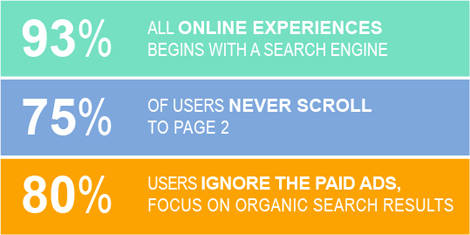 Is SEO the new "Rising Career Star"?
Well, Search Engine Optimization – SEO has become one of the most wanted elements of Digital Marketing. And so, this particular field creates numerous and a variety of opportunities to build careers. In fact, it is soon becoming one of the largest recognized careers worldwide. The reason for it as a successful path for a career is the interesting and lucrative nature of the SEO. Moreover, because it provides opportunities for beginner to expert level, young students are the most attracted audience to SEO. The web has completely changed the way, companies do business and the know-how of the Search Engine Optimization – SEO has become the basic necessity for the marketers and advertisers to be successful. In today's era, Search Engine Optimization – SEO is a logical step ahead if you come from the clan of marketers and advertisers especially.
An Overview of the Digital Marketing and SEO Industry
There's an increase in the use of search engines to look for information because of the increase in the use of web technology. This increase is witnessed since last few years and is still expected to boost in coming years.
Large brand owners are investing in Search Engine Optimization Technology actively to broaden their horizons worldwide.
Traditional marketing techniques are considered cliché and therefore, marketing is now divided into Direct and Digital segments which cater the needs differently. Digital Marketing and SEO are the fastest and the most effective means of marketing today.
The increase in usage of mobile phones has resulted in an increase of web searches which are basically search engines based.
Organic SEO searches and listings are considered more trustworthy and credible as compared to other listings and searches which are done through various digital advertisement techniques.
Google and other search engines are evolving by leaps and bounds, which shows a dire need for SEO functions. These engines are making demographic and geographic search results which are useful for many businesses around the globe.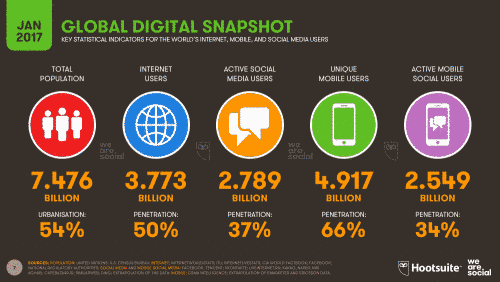 Source: We Are Social
Future prospects of Search Engine Optimization – SEO
The rapid increase in the use of technology, in the realm of businesses is creating a dramatically growing demand for such digitalization of activities for sure. The career option in the segments of Digital Marketing, SEO, Social Media Marketing, Internet Marketing and Search Engine Advertising – SEA is huge and can be seen rising swiftly – at least in the foreseeable future of Marketing.
Search Engine Optimization's – SEO's career path is definitely a safe path due to its never-ending demand and prominent desire in the World of Marketing. The technicalities involved in SEO keep on evolving as the technology keeps on evolving. Therefore one must be a keen to learn and groom his or her skills and keep him or herself updated with the most recent knowledge of SEO, algorithm changes, new marketing tactics, etc.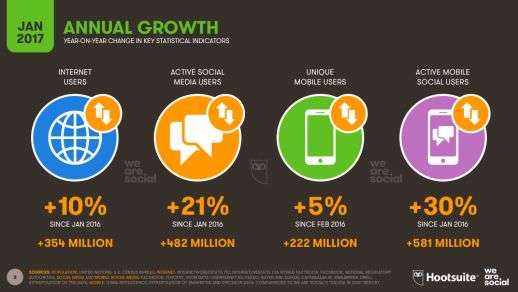 Scope of Search Engine Optimization's – SEO's Careers for Freshers
Search Engine Optimization – SEO is one of the most happening areas and there's a huge scope of building careers in this filed. Today, every business is investing a huge amount of money in SEO and is looking forward to getting hold of SEO services for itself in order to grow and expand their business reach. And this is absolutely very important for any organization due to increase in globalization.
This specific field of Digital Marketing has an extremely bright future for young people who excel in analytical skills and are dynamic. All you need is to keep yourself restored with the latest trends in the field of SEO, have an intense passion for research and should be able to strategize marketing campaigns creatively to beat your competitor and have an edge over all others in order to make yourself stand out.
Here are a few reasons for Freshers to opt for career in Search Engine Optimization – SEO
This is one of the quickest ways to get a job opportunity. There's no other technology that offers opportunities to fresher than Digital Marketing and SEO. There is a huge space for freshers in Digital Marketing and SEO.
Salary is usually paid on the basis of skills an individual possesses. But still, the least that one can expect ranges between 15k and 20k per month as a starting salary.
If you are planning to get your hands on the IT field, then the field of Digital Marketing and SEO is the best choice one can make. This field promises generous growth in your skills, your expertise and experience as well as in your career.
In case, you are not planning to opt for Digital Marketing and SEO as a job, still, this field has ways to help you make extra money as a freelancer, blogger, affiliate marketer, etc. All you need is some extraordinary skills, and have to be sensible enough to grab the right opportunities.
Digital Marketing and SEO have plenty of small-scale job opportunities as well, such as content writer, link builder, page experts and what not. This means that the field of SEO offers a wide range of jobs which are as small as a link builder and as big as analysts or programmers as well.
Digital Marketing and SEO is a field where the job is almost And this is the only field which has enough openings anywhere anytime.
A lot of educational institutions do not have Digital Marketing and SEO as an academic field or course as a part of their curriculum. This means there's less competition present in the market form the perspective of manpower.
Be it Information Technology or Marketing, both of these contribute to the foundations of Search Engine Optimization –SEO. Because IT is a comprehensive field, and Marketing is a creative field the nature of both the fields are relevant to Digital Marketing and SEO.
SEO Careers / Job Categories / Designations
There are multiple positions in the field of Digital Marketing and SEO. These positions vary from the field of Information Technology and Marketing. Almost all the career options require enough knowledge of IT as well as marketing. The field of IT and Marketing makes up composite job descriptions for the roles. Most of the large firms have the following job categories as a part of their hierarchy.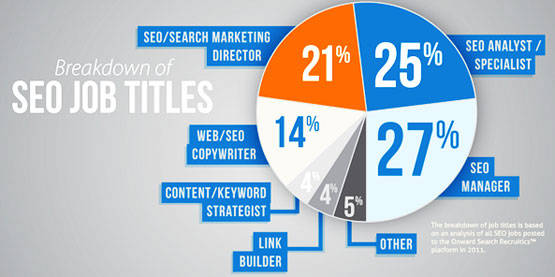 Can Freshers be a self-employed individual in this field?
One can always be self-employed in the field of Digital Marketing and SEO. And especially young and fresh students can easily be self-employed even before completing their education. Yes! You read it right. You do not need to wait to have a degree to start your first job.
Want to know how? Here are a few tips to get you self-employed in the field of Digital Marketing and SEO:
Attend various sessions, workshops and conferences which are attended by marketers from Digital Marketing Industry. This is going to help you in getting know-how of how the Digital Marketing world operates.
Social networking sites such as LinkedIn.com are good places to meet new people and explore networking opportunities.
Team up with web designers because they typically require SEO services or at least content writing services which you can offer.
Or you can easily team up with web developers, content writers, social media analysts, SEO analysts, etc. and manage your own business as well. You can become an entrepreneur on your own by capturing the right people for the right opportunities.
SEO Training and Certifications for Freshers
There are hardly any official governing bodies for SEO industry and there's no fixed standard to follow as well. But there are several institutions which are known for their reliability and credibility in offering international certifications to help individuals to complete their SEO courses and get certified. Moreover, apart from regular college or university education, one should get his or herself registered in a Digital Marketing Education Program for a comprehensive learning and training experience. Eventually, you can enrol for the exclusive courses on Search Engine Optimization and get yourself certified by Google.
A sneak peek at the salary and benefits offered by Digital Marketing and SEO
The growth in the field of SEO is not just limited to the career of individuals; in fact, it is related to their financial terms as well. But all this comes with acquiring compelling skills like Google Analytics, Google Adwords, Content Marketing and Electronic Customer Relationship Management (E-CRM), which can help you earn more. So, once again it's all about how do you make yourself stand out with these additional skills in your job profile apart from your basic education.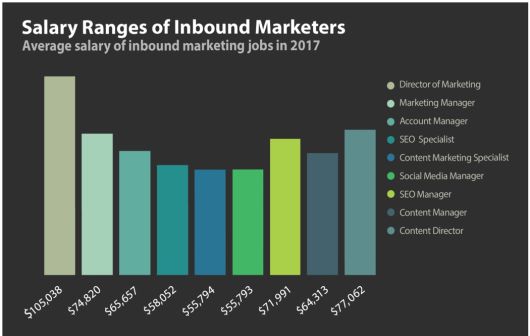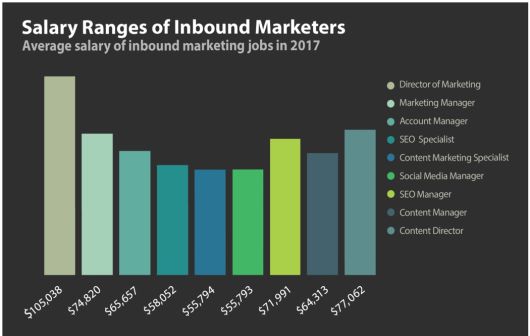 Source: Marketing Profs
The salaries paid to SEO professionals are based on various factors such as basic qualification, knowledge, skills and expertise, job profile, certifications, experience, role, etc. A fresh graduate without much of a sweep can easily expect AED4000 to AED7000 per month. Moreover, if you possess a combination of skills such as freelance consultancy + Content writing + Blogging + Affiliate marketing and so on, you can easily freely earn a handsome amount of money and enjoy a decent lifestyle.
There are thousands of job openings in the Digital Marketing industry every day which more or less require experience in Search Engine Optimization –SEO of both entry-level and expert level. This is another proof of how essential is SEO knowledge for the jobs of Digital Marketing industry.
Is Digital Marketing the right career? OR Is SEO a good career choice?
People who come from IT background often ask, whether SEO is a good career path to walk on. The answer to their question is YES! Being prepared for a job is one thing, but loving and enjoying it enough because of learning that you experience every day and earning handsome amount of many to make it a career is another.
If you are the one who loves doing stuff in a different and innovative way, then we would suggest you jump in and enjoy the ride. You'll get to acquire SEO ninja skills which would help you build your career to the most senior level positions and responsible roles in the field of Information Technology and Marketing both.