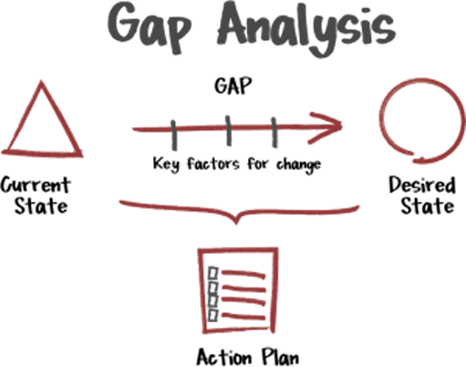 Gap Analysis is another SEO task that, if carried out in a right way, can take the website to the next level of success. It always pleases our clients to know what the quick wins and gaps in the market are.
At Search Gurus, we perform an in-depth search to find out the gaps in a client's websites and the competitor's websites. This way we ensure to catch all the low hanging fruits and bring new actions for the clients.
Our SEO company's focus is not just to grow your business and succeed online, we are also dedicated to educating our clients that engages them and makes us able to work together and drive great results.
Search Gurus works in a way that makes our SEO work transparent to the client. Our aim is to make sure we report everything, whether they are small or big gaps.
Our gap analysis service and typically our way of working, does wonders online.
Competitor
keywords
Finding the keywords that your competitors used for bringing the potential customers to their websites.
Missing
keywords
Our experienced Search Gurus spend their time to study the industry, Google trends, and keyword research on different paid tools to make sure we grab the audience from all variants.
Missing
content
Search Gurus tells you the missing topics that should be covered on the website to attract the potential customers and increase traffic.
Google
1st page results
Analysis of the Google 1st page ranked websites with different keywords to find out the reasons behind those rankings i.e. content, website structure, page load times, social signals etc.
Backlinks of the
already ranked
pages
While analyzing the content of the 1st page results, we do an in-depth analysis of backlinks of those pages. It opens up many opportunities to use the same links and gives an idea of how many backlinks should you build to rank your keywords.
Fresh
content
Fresh content on the website that competitors produce could be one of the major reasons for their high rankings. Search Gurus analyses the content and the audience engagement on behalf of that content.
Google
Analytics analysis
Data reveals the answers about how the audience interacts with the website. Digging out the user behavior, traffic sources, website usage flow, transactions, bounce rate, average time on the website etc. – we create a report to suggest the changes to make on your website.
Basic
metrics
We perform an analysis of some basic metrics of your competitor's websites i.e. Domain age, Domain Authority, social presence, page load time etc. that gives an estimate to set your own goals.
How Gap Analysis Works?
Gap Analysis Planning & Process
Gathering information about your competitors is always the first strategy when a business is usually set up, while getting to know your online competitors is tricky and requires enough amount of research and time to know the real insights.
Typically, we follow the Gap Analysis process for medium sized business websites, which changes based on the client requirements and size of the website.
missing keywords & content
industry top website analysis
competitors backlink analysis
competitors basic metrics
google analytics analysis
competitors content analysis