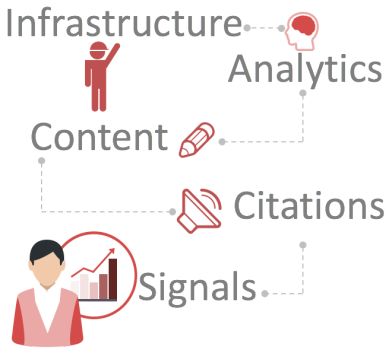 With thousands of websites operating in United Arab Emirates, it is quite easy to have yours go unnoticed. Therefore, SEO company plays its role by helping your website maintain a higher rank amongst all others.
Our experienced Search Gurus spend their time to understand what your audience is looking for, and optimize the website based on Google's search standards and user's perspective.
Our SEO company's focus is not just to grow your business and succeed online, we are also dedicated to educating our clients that engages them and make us able to work together and drive great results.
Search Interactive works in a way that makes our SEO work transparent to the client. Our aim is to make sure we report everything, whether it is a small or big change for the website.
Our SEO Services and typically our way of working, does wonders online.
Technical
SEO Audits
We review the website structure, source code and complete site audit of domain and its pages that covers 27 key SEO facets to provide benchmarking and maturity scoring on crawlability, indexation, site architecture, HTTP responses, on-site factors, site performance and search engine innovations.
Onsite SEO
Audit
After the technical audit implementations, analysing the Onsite SEO is very important to get the benefits of the big technical audit changes. It improves the overall search rankings visibility and optimises website as per Google standards. We also work on page copy improvements including alt tags, meta descriptions, title tags, headings and peripheral content.
Micro-data
Audit
We convert the entire website into structured data format that allows Google to understand the structure of the website and would likely show information of the website in quick search boxes.
Content
Audits
Identifying content pages that contain little or no original content or pages that could be harmful and typically violate Google's quality guidelines, resulting in a penalty.
SEO
Consultancy
Ad hoc consultancy and client support to improve website from the SEO perspective. We identify the issues and provide actionable solutions month on month by analysing the client's website and their online competition.
Mobile SEO
Services
We drill down the advanced mobile optimization tools and figure out the mobile friendliness issues and the solutions to handle them better from the perspective of users and search engines.
Local SEO
Services
We get involved in claiming and further improving the Google business profiles of your company. It also involves reaching out to your satisfied customers for legit reviews and cite on the right areas of the onsite and offsite resources.
Keyword Research
& Mapping
We perform advanced keyword research, segmentation, and mapping of most important pages to user stages and intent types. Furthermore, we analyse the geographic priorities and different languages.
International
SEO Services
Search Interactive is quite flexible when it comes to working on the brand's international presence and in different languages. We execute the website technicalities with the right strategies and use terminologies which are right for the region.
Enterprise
SEO Services
Websites that have 100,000+ to 10,000,000+ pages have a huge impact when you make a small change on the website, either positively or negatively. Search Interactive creates SEO strategies knowing the impact on the search in mind.
Ecommerce
SEO Services
We know the importance of each page on an Ecommerce website. We only recommend big changes after analyzing user-behavior, competitors, and how users are searching for your products to make big differences in transactions.
Project-based
SEO
Lastly, Search Interactive help clients on project-based SEO work that includes website migration, new functionality changes, and new landing pages to make sure your big changes boost online visibility.
How SEO Works?
SEO Planning & Process
We know that every website is different and perform custom research for each client. Typically, we follow the SEO process for medium sized businesses which changes based on the client requirements and size of the website.
keyword research & mapping